Interactive Teaching Methods Make Learning Clear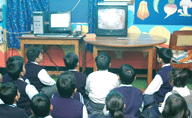 From Alice in Wonderland to Harry Potter, watching DVDs in the multimedia room is a favourite class activity for our primary children! Teachers are also using large screens, complete with laptops and projectors for a more lively presentation in the class itself. And without going to the computer lab, they are able to explore the benefits of the Internet in the class itself.
Audio Visual Programme
Watching carefully selected DVDs provide children better immersion in the English language. This in turn leads to better expression in English by our children who are often first generation learners of English.
Show and Tell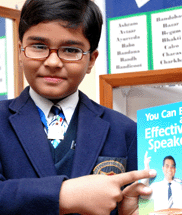 Show and Tell is done throughout our primary classes. Children bring things from home or create props to speak about. The goal is extempore speaking with confidence. Every child gets the same opportunity and the whole class participates in evaluating. This helps develop critical thinking skills at the same time as they learn to focus on proper pronunciation, voice intonation for emphasis, the value of good beginning and ending, proper structuring of thoughts, the use of props, quotations and poetry, research on a topic, etc.
The children are also appreciated for their 'Show and Tell' skills as well as for dictation, vocabulary, sentence and prose making skills and reading.
GEMS Innovate
The Pronunciation Laboratory uses the Bob Baratta- Lorton Reading Prgoramme and is very popular with the students.
Focus on Correct Pronunciation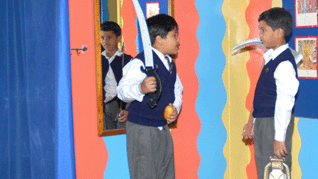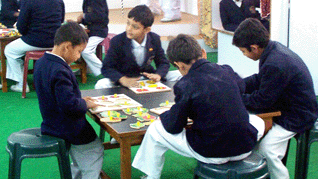 Language Laboratories
Focus is primarily on the building of vocabulary and conversation skills (listening and speaking and development of vocabulary). All primary aged children have a built-in programme in their regular timetable to attend this Lab.
Expression in English Writing and expressing well is a technique
Creative Writing, Composing, Dictation, Spelling & Handwriting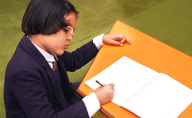 Oral Expression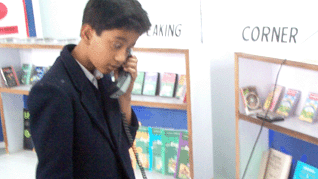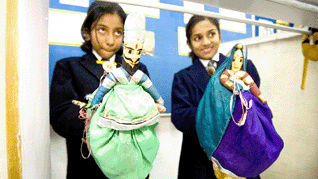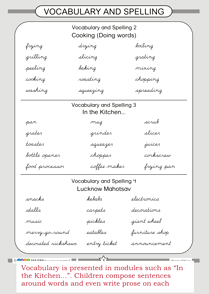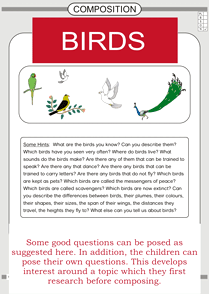 New approaches are used to develop the skill to compose well. After research, the children are able to compose and articulate their understanding much better than when simply asked to write a few lines without preparation or with keywords alone. Instead, we ask a number of natural questions around a topic, shown here for example, on the topic 'Birds'.
By posing questions (as shown from a MAXIM page above) and researching these questions either in a library or on-line, children develop a far better understanding of birds. They also learn new vocabulary and develop curiosity. Children are asked to pose their own questions as well and find answers. They can thus structure their thoughts much better after this process and write a far better composition.
If our objective is to build the capacity to better express in English, these methods are very useful. In addition, the process develops critical thinking skills including skills to research on a new topic, use imagination, ask good questions, etc.
Recognising Patterns in Prose and Poetry
Introduction Part III
Third, a poetry is often provided in which each grammar concept is highlighted. Emphasis is on the recognition of patterns and on developing a 'sense' of a grammar concept, not on learning definition, per se.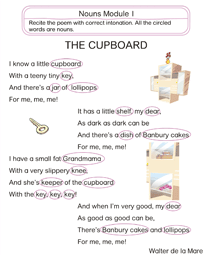 Introduction Part IV
A short comprehension passage is used next. In this, the children circle each, part of speech as being taught, for example nouns. Comprehension questions are presented at the end of each prose, to which a teacher or students may add their own questions.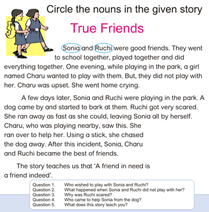 Followed by all these, the work modules begin. Each one is graded and they are divided into two parts: COMPULSORY and OPTIONAL.
To accelerate the learning process, it is proposed that before a pencil is picked up, the compulsory exercises are done orally with the class as a whole, involving the children in an interactive setting as much as possible, after which the children do the exercises on their own in pencil. Those who finish fast move on to the Optional Modules.
Accelerated Learning
A Four Part Introduction to Every Concept The GEMS Programme presents ample opportunity for the integration of multiple-intelligences in the classroom. These approaches accelerate the process of learning while adderessing different learner types.
Introduction Part I
Each new chapter in the MAXIM Classbook begins with a teacher gage. This provides a teacher a few ideas for dramatic / interactive presentation of the concept, for example, for the presenation of 'Nouns' as below. A teacher may come up with her own interactive ways to present a topic.
Ideas For Dramatic Presentation
Ideas 1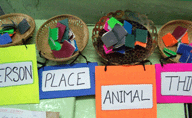 The teacher may divide the class into four groups. She may then keep four different baskets named as 'persons', 'places', 'animals' and 'things'. Separately she may write down 10-15 words for each category on cutout pieces of paper and mix these up. Have four children hold these baskets at the back of the class. Ask each child to come up row wise, pick up a slip and place it in the correct basket. Later on the teacher calls upon each child holding a basket to check whether all belong to their category. They read out aloud each slip and the class participates in determining whether these belong in a particular basket or not.
Ideas 2
Divide the class into four groups, one representing persons, another places, another animals and yet another things. Each group is asked to come up with a list of nouns belonging to their category. Each child should contribute at least one idea.
Ideas 3
Write down on the blackboard the names in each category as read out by the students and let the whole class participate in deciding whether they belong or not to a particular group.
Ideas 4
Fill up a bag with a variety of small objects. Ask a child to take out one object at a time and let the class to identify and name them as person, place, animal or thing.
Introduction Part II
A picture page allows a student to assimilate and visualise better a the concepts being taught.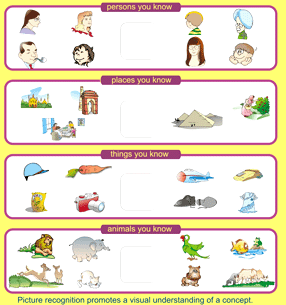 GEMS Innovate Reading Programme
Gems Reading Programme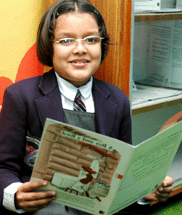 Short storybooks, abridged versions of carefully selected classics and other well written books are introduced to form a class library in each section of every primary class. The programme aims at developing a love for literature and enhances a child's ability to express, speak and write. Children learn to appreciate written text, observe variety in writing styles, learn to express thought and emotion, learn about cultures, link to real life and appreciate abstract concepts.
My Reading Log
'My Reading Log' is a mini notebook especially made for keeping a record of a student's personal reading. In this mini notebook the children keep a log of the number of pages of a storybook read each night and on the weekends.
The children keep a write down the name of the book, its author's name, interesting words found and their meaning, and other remarkable observations they make about each book. Two periods are often block scheduled on Monday's for the Reading Programme.
The teachers start by collecting all the mini logs after which new books are allocated as needed followed by 'quiet' reading time. Many classrooms also play soft classical music in the background.
A Page from 'My Reading Log' of a student
A typical class has a library of about 50 storybooks and a much bigger supply when students lend their own collections.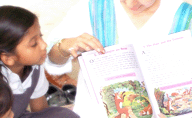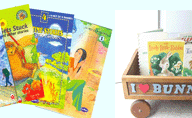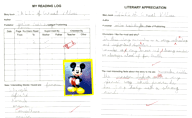 Focus on Learning
School conducts traditional tests from time to time to make sure that learning is taking place. On-going diagnostics are used to modify lessons and consolidate learning. It is most important that learning is taking place and weaknesses in one year are not passed on to another year.
A scientific approach to ensure learning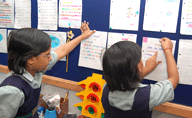 Teachers collect information about children's skill level in traditional and NGS methods to ensure that learning is taking place. Personal goal setting, planning, time management, self-study and analysis focus on detail, competition with oneself, beauty and perfection. All children excel and shine like GEMS!